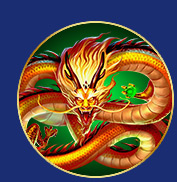 Lancez-vous sur les traces du dragon mythique dans la machine à sous Mystery of LongWei !
Embarquez pour un voyage des plus fascinants sur la Route de Soie. Dans ce voyage vers la Chine, vous verrez vous survoler les dragons puissants qui peuplent ces lieux. Vous vous laisserez surement envouter par ce majestueux paysage, qui présente des temples cachés dans les montagnes.
Les feuilles qui se déplacent délicatement au gré du vent viennent chatouiller les rouleaux. Il faut reconnaitre que le développeur iSoftBet a fait un travail remarquable avec Mystery of LongWei en y intégrant quelques passionnantes fonctionnalités qui vous tiendront en haleine des heures durant.
Les symboles affichés sur les rouleaux rappellent des éléments évoquant la Chine tels qu'un Panda, une Carpe Koï, l'emblématique Dragon LongWei, gardien de tous les gains et bien d'autres icônes évocatrices que vous découvrirez par vous-même.
La machine à sous Mystery of LongWei d'Isofbet propose également deux grandes fonctions avantageuses :
- Les Tours Colossaux Dragon : le Dragon sur le rouleau 1 déclenchera des Tours Colossaux, jusqu'à 4. Le premier rouleau sera alors verrouillé sur un symbole et les 4 autres tourneront comme d'un seul bloc.
- Les Tours Gratuits : 3, 4 ou 5 Scatters attribuent 10, 20 ou 30 Tours gratuits. Lors des Free spins, les Symboles forts deviennent colossaux sur les rouleaux 2 à 5.
Si vous désirez jouer gratuitement, vous pouvez le faire grâce au mode démo en cliquant sur le lien ci dessous. Vous pourrez vous risquer à utiliser la fonction auto-spin, vous devrez alors utiliser le mode expert. Pour cela cliquez tout de suite sur le bouton JOUER POUR DE VRAI !