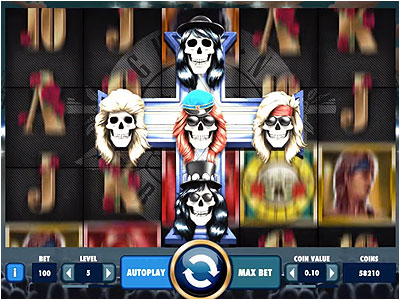 Une machine à sous du tonnerre !!!
Avis à tous les fans de Rock, cette année NetEnt frappe fort ! En effet, voici la machine à sous officielle Guns and Roses !!
Tout juste après l'annonce d'une potentielle reformation du groupe de heavy metal légendaire, voila que NetEnt, un des éditeurs les plus influants ces dernières années dans l'univers des casinos en ligne, vous propose de jouer avec ce groupe dans une slot endiablée !
Faîtes défiler les symboles représentants les membres emblématiques du groupe tels que Axl ou Slash et tentez de réaliser des combinaisons gagnantes sur les rifts survitaminés du groupe.
Choisissez votre musique Guns n' Roses !
Autre originalité de cette videoslot musicale, la possibilité de choisir sa bande son parmis une sélection des morceaux les plus populaires du groupe de hard rock. Spinnez ainsi sur les rythmes mythiques du groupe aux multiples disques de platines !!!
Des nombreux mini-jeux bonus sur cette machine à sous vidéo !
A l'instar de la machine à sous vidéo South Park de NetEnt, ce bandit manchot vous propose plusieurs mini-jeux bonus (un par membre du groupe). L'idéal pour découvrir les titres et l'univers de Guns and Roses. Composée de 5 rouleaux et de plusieurs lignes de paiement, elle comblera tous les joueurs de casino en ligne à la recherche de sensations excitantes !
Attendue depuis son annonce à l'ICE de 2015, NetEnt confirme son intention de dominer le marché du egaming en proposant un contenu toujours plus riche et des licenses toujours plus impactantes. Après les partenariats avec Universal Studios, NetEnt décide d'attaquer un secteur très élitiste mais réalise avec brio sa première approche !
Que tous les fans de machines à sous et de métal se réjouissent, la machine à sous vidéo Guns and Roses est un véritable hit !