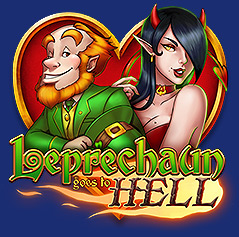 Suivez un petit lutin irlandais jusqu'au profondeurs des enfers et tremblez devant la terrible Evilene ! Entièrement vêtu de vert, votre Leprechaun muni de sa redoutable pioche, n'aura de cesse d'alimenter la cheminée d'un infernal jackpot progressif !
Une videoslot passionante pleine de bonus !
Oubliez le paysage magnifique des grandes plaines irlandaises que l'on peut voir dans les autres jeux gratuits en ligne basés sur le Leprechaun. Dès à présent, laissons place à tout ce qu'il y a de plus angoissant au travers d'une quête de tous les suspenses.
Le décor planté est une immense grotte enflammée, perdue dans les profondeurs de la terre. Vos spins seront rythmés par une musique Rock N Roll endiablée. Les cris maléfiques se laisseront entendre et des flammes jailliront de tous les côtés ! Découvrez la plus angoissante des slot vidéo Play'n GO !
Autour de la machine à sous
Le dernier titre des développeurs de machines à sous Play'n Go, Leprechaun goes to Hell nous offre un voyage au coeur des enfers ! Rares sont celles plus originales que cette slot vidéo horrifique développée en août 2017.
Composée de cinq rouleaux et trois rangées de symboles, vous êtes placé au beau milieu d'une grotte infernale à la conquête du super jackpot.
Quels sont les différents bonus disponibles sur cette slot ?

Les 25 lignes de paiement de la machine à sous Leprechaun goes to Hell accueillent des mises comprises entre 0,25€ et 5,00€.
WILD : Le symbole du lutin est un symbole de substitution qui pourra remplacer tous les autres symboles, à l'exception des scatters. Celui d'Evilene est également un wild (joker). Si ces deux symboles viennent à participer tous deux à une combinaison gagnante, alors le gain du joueur sera doublé.
SCATTERS : Lorsque 3 scatters sont immobilisés sur les rouleaux, le joueur bénéficie de 10 tours gratuits durant lesquels les récompenses sont doublées. Si une nouvelle occurrence des 3 scatters survient, alors le multiplicateur de gains augmente à x4, et ce jusqu'à un maximum payant 10 fois un gain.
LE BONUS INFERNAL : Le bonus infernal pourra se déclencher avec 3 symboles d'Evilene, la diablesse sexy qui vous accompagnera durant la partie. A chaque fois qu'un cœur de démon apparaît durant ce bonus, un spin infernal supplémentaire sera accordé au parieur.
FREE SPIN : Caché au plus profond des enfers, d'énormes chaudrons d'or sont à dénicher pour toucher 10 free spins avec des gains multipliés par 2. Trouvez donc ces 3 chaudrons sur un même spin et tentez de gagner jusqu'à 50000 crédits + le gain du jackpot.
JACKPOT PROGRESSIF : A droite des rouleaux, le lutin se tient près d'un réservoir graduée 4 niveaux, le jackpot progressif. Plus les gains du joueur s'accumulent dans le réservoir, plus le jackpot se remplie. Des chances multipliées pour gagner le mega jackpot!
Notre avis sur la machine à sous Leprechaun Goes to Hell
Au-delà de cette réadaptation de la légende des leprechauns irlandais, ce titre de Play'n Go offre un gameplay très riche avec 4 jackpots progressifs. Un hit dans la machine à sous horrifique à ne pas manquer ! Ame sensible s'abstenir!