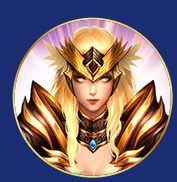 La machine « Rise of the Valkyrie » d'Yggdrasil, sortie au mois d'avril dernier, nous replonge dans l'univers de la mythologie nordique, en nous présentant cette fois non pas les aventures des dieux mais celles des Valkyries, guerrières angéliques dont la mission est de guider les soldats tombés au combat jusqu'au Valhalla, le royaume de la gloire.
La grille de la machine est composée de 3 lignes de 5 cases, le format classique, mais le jeu n'est pas en reste pour les bonus, sur lequel nous reviendrons juste après. Visuellement, plusieurs des symboles renvoient à l'imagerie de la mythologie.
Nous avons des Valkyries présentent sur 2 types de symboles ; les Splitz et les WILD ; mais également l'un des corbeaux d'Odin et les portes du Valhalla. D'autres symboles comme des flèches, une épée et un bouclier sont présent pour marquer l'aspect guerrier du rôle des Valkyries.
Une quantité phénoménale de bonus !
Le jeu comporte différents types de symboles et de nombreuses fonctionnalités : Tout d'abord, les WILD, qui peuvent remplacer un symbole basique pour favoriser les combinaisons. Ensuite, nous avons les Splitz. Ce sont des symboles qui se transforment en un autre, déterminé aléatoirement et qui se divise pour en donner entre 2 et 4.
Après leur utilisation, ils laissent derrière eux une trace pour marquer leur emplacement pour la fonctionnalité suivante.
Le Splitz Storm : Tous les 10 lancers, les marques se retransforment en Splitz pour laisser apparaitre une quantité incroyable de symboles ! Vous pouvez suivre votre nombre de lancers sur la jauge à gauche de l'écran. Cette fonctionnalité peut facilement vous permettre d'accéder au jeu bonus suivant.
Les Coins et Collect : Ce sont des symboles complémentaires. Les Coins indiquent un montant et si vous obtenez un Collect en même temps, vous gagnerez cette somme. Par ailleurs, si vous obtenez 6 Coins à l'écran, vous déclencherez le jeu bonus (c'est pourquoi les Splitz sont intéressants).
Durant ce jeu, une autre grille se lancera, avec dessus des Coins ou des symboles basiques. Vous disposez de 3 chances pour obtenir le plus de Coins possibles. A chaque fois que vous en obtenez au moins 1 vos chances se rechargent. A la fin du jeu vous gagnez le montant associé à chacun.
Enfin le dernier bonus est encore un jeu supplémentaire. Un jeu de paris ; le Side Strike. Vous aurez la possibilité de programmer une mise supplémentaire pour cette fonctionnalité. Vous devrez choisir une couleur, vert ou rouge ; et au cours des lancers, vous verrez apparaitre des symboles marqué de l'une des deux couleurs. Si celle sur laquelle vous avez parié sort plus souvent, vous obtiendrez 2 ou 5 fois votre mises. Cela n'impacte pas le déroulement normal de la partie.
Rise of The Valkyrie : le jeu le plus varié ?
Rise of the Valkyrie est un jeu proposant un gameplay très varié, avec de nombreuses fonctionnalités ; plus que sur la plupart des jeux que j'ai pu tester.
Ses illustrations sont belles mais les jetons Coins et Collect font pièces rapportées et jurent un peu avec le reste, ce qui est dommage ; mais c'est un détail, son gameplay suffit à en faire une très bonne machine qui saura vous satisfaire si vous êtes en quête de variété