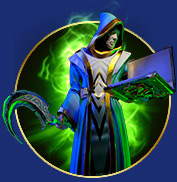 Si vous avez toujours rêvé d'être un barbare qui découpe des monstres à tour de bras, la machine à sous EvoPlay Dungeon est fait pour vous !
Entrez dans le portail et massacrez des vagues de monstres pour récolter du butin et ainsi toucher des gains dans cette machine à sous originale EVOPLAY.

La première chose qui nous interpelle dans le jeu de casino Dungeon ce sont ses graphismes complètement en 3D et son système de jeu différent des autres ! En effet, inspiré des célèbres Hack n' Slash tels que Diablo ou Path of the Exile, Dungeon est ce qu'on appel un Dungeon Crawler, où votre but est d'enchaîner les pièces, vaincre des monstres et récolter un maximum de gains !
Un savant mélange entre une machine à sous vidéo et un jeu vidéo RPG !
C'est vraiment cette particularité qui fait de Dungeon un jeu de casino unique. C'est une machine à sous RPG ! Vous contrôlez un barbare envoyé par plusieurs mages dans un Donjon et à partir de là, c'est une boucherie pour les monstres qui se met en place.
Pariez avec un minimum de 0.1€ et un maximum de 100€ et laissez ce barbare sous stéroïde récolter vos gains sur les corps encore brûlants de vos adversaires.
Affrontez des boss et multipliez vos gains par 5 000 dans des combats épiques ! Les coffres et les couloirs de Dungeon n'attendent que vous.  Prenez votre hache et venez dompter cette machine à sous chanceuse.