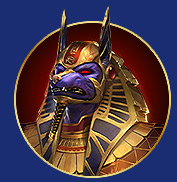 Sensations grisantes au rendez-vous aux côtés du Dieu des Morts dans la machine à sous Ankh d'Anubis de Play'n Go ! La machine à sous Ankh d'Anubis tout récemment sorti des studios de Play'n Go nous emmène dans l'Égypte ancienne.
Elle met aussi en scène le tout puissant Anubis qui a règné sur l'Égypte pendant 3000 ans ! Connu comme le dieu de l'embaumement et des morts, Anubis avait le pouvoir d'accorder une grande richesse avec son tout-puissant Ankh. La machine à sous porte la touche Play'nGo offrant des jeux finement dessinés et des règles simples pour une prise en main immédiate.
Même si ses fonctionnalités ne sont pas très nombreuses, la machine à sous Ankh of Anubis intéressera sûrement les afficionados de Book of Dead puisqu'ils retrouveront un terrain de jeu bien connu. Par ordre décroissant, nous retrouvons les symboles représentant la Croix Ankh, le Scarabée, le Masque et l'Ornement avec Emeraude. Les habituels symboles Royals A, K,Q, J constituent les valeurs faibles du jeu.
Dans le jeu de base, de gros gains peuvent arriver à tout moment avec Anubis Wild. Déclenchée aléatoirement, cette fonction ajoutera des symboles Wild aux rouleaux pour doper les gains. Avec un taux de redistribution de 96.2%, cette slot en ligne empreint de merveilles est à découvrir dès maintenant en démo gratuitement et sans téléchargement ci-dessus ou jouez en réel en cliquant sur JOUER POUR DE VRAI !