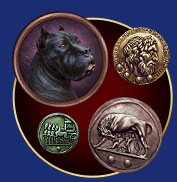 Attila The Hun est une machine à sous de l'éditeur Relax Gaming. Le jeu commence par une cinématique montrant l'inauguration d'une nouveau tableau dans un musée. Il représente la guerre qui fit rage entre les Huns et les Romains lors de l'assaut d'Attila vers Rome. Admiratif devant cette scène vous vous laissez absorber et commencez à rêver du déroulement de la bataille !
Cette machine se présente sous le format 3 lignes par 5 colonnes. On peut y miser entre 10 centimes et 100 euros, mais l'estimation des gains maximum n'est pas connue. Le jeu est bien immersif car chacun des symboles est propre à son univers. Nous retrouvons des soldats, des boucliers, des animaux comme des chiens et des chevaux qui étaient utilisés lors des conflits, ainsi que des pièces de monnaie des deux camps. De plus l'interface utilisateur a été travaillée de sorte à se fondre dans le décor.
Deux armées de symboles WILD s'affrontent !
Les soldats s'affrontent pour gagner du terrain sur la machine ; les Romains depuis la gauche de l'écran et les Huns sur la droite. Ce sont des symboles WILD particuliers. Lorsque l'un d'eux apparait à l'écran, il déclenche des respins tant qu'il reste à l'écran et se déplace d'une colonne à chaque fois jusqu'à sortir du cadre. Comme ce sont des WILD, ils peuvent comme d'habitude se substituer à un autre symbole lors d'une combinaison.
Si deux WILD opposés, Romains et Huns, se rencontrent de cette façon, ils déclenchent des « Small Battle Free Spin ». Ils prennent alors la forme d'un WILD de 2x2 cases pour un maximum de combinaisons.
Il arrive aussi que l'un des généraux, à savoir Aetius et Attila arrive sur le champ de bataille. Lorsque cela se produit, ils emmènent avec eux 2 à 15 soldats WILD qui déclencheront la mécanique de respin comme expliqué précédemment. Enfin, si les deux généraux se rencontrent, ils s'affronteront en duel sur un WILD de 3x3 cases, sur le même principe que les « Small Battle Free Spin ».
Notre avis sur cette machine à sous Relax Gaming
Attila The Hun est un jeu immersif dont l'identité visuelle est développée à fond. Il est plaisant de voir que tous les symboles sont cohérents avec l'univers (on retrouve trop régulièrement à mon goût les symboles des jeux de cartes : A, K, Q, J…). Le gameplay des bonus joue comme souvent sur les tours gratuits, en faisant le choix cette fois de faire fusionner les WILD avec les Scatter, pour aller au plus simple, ce qui n'est pas une mauvaise chose.
La seule remarque que j'aurais à faire porte sur le fait qu'il n'y a pas d'indication des gains max ; ce que je trouve dommage car étant une info importante pour les joueurs ; mais le jeu en lui-même est très cool !