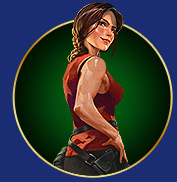 La courageuse exploratrice Cat Wilde est déjà de retour dans cet opus « Pyramids of the Dead » quelques mois seulement après la sortie de « The Lost Chapter » dans lequel elle affrontait le dieu Anubis pour récupérer les pages manquantes du livre des morts. Nous la retrouvons cette fois nez à nez avec les spectres de 4 anciens pharaons dans leur tombeaux.
Le jeu prend comme toujours la forme d'une machine à sous de type bandit-manchot avec une grille de 5 cases par 3 et 10 lignes de paiement. Les mises, comme toujours avec cette série sont assez spéciales. Vous pouvez miser un certain nombre de Coins (entre 1 et 5) qui sera multiplié par la valeur choisie (entre 0.01 et 2 euros) puis par 10, pour le nombre de lignes de paiement.
Pour ce qui est du visuel, les symboles sont similaires à la précédente mais plus colorés ; il y a moins de dorures. On retrouve Cat, Anubis, un scarabée, un masque de pharaon et des pyramides. La grille occupe également moins de place à l'écran, permettant de mieux voir l'arrière-plan : une place royale à ciel ouvert avec des colonnes peintes et une grande pyramide à l'horizon.
Quel Pharaon vous offrira son Jackpot ?
Les bonus de la machine se déclenchent lorsque vous réunissez 3 pyramides, qui jouent à la fois le rôle de WILD et de Scatter. Le bonus obtenu est déterminé à l'avance car les pyramides changent d'apparence.
Le premier est un gain instantané. Les pyramides se changent en coffre avec un montant indiqué dessus. En réunir 3 permet de gagner la somme des montants. Ensuite il y a les tours gratuits, qui sont au nombre de 8 au départ. Durant cette phase l'un de symboles est sélectionné aléatoirement pour devenir un Expanding Symbol, il occupe tout un rouleau quand il tombe.
Enfin nous avons le jeu bonus. Vous aurez face à vous 12 urnes, contenant les âmes des 4 pharaons. Cassez les urnes jusqu'à trouver 3 âmes identiques et vous gagnerez le jackpot associé au pharaon.
En plus de ces bonus, la série des Cat Wilde vous propose toujours de parier vos gains sur le résultat du tirage d'une carte. Si vous gagnez vous doublerez vos gains.
Conclusion : Une nouvelle slot d'une bonne série
Les visuels des machines Cat Wilde sont toujours très cool, l'ambiance égyptienne s'y prête bien ; mais les dorures de l'opus précédent manquent, d'autant plus que la grille a vu sa taille diminuer.
Pour ce qui est du gameplay, l'ajout de nouvelles mécaniques comme les gains instantanés et le jeu des jackpot permet à la série de continuer à évoluer, ce qui est une bonne chose. Je vous recommande vivement de découvrir ces slots si vous ne les connaissez pas encore !