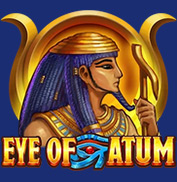 « Eye of Atum » est un jeu de chez Play n GO sortie fin mars dernier. Dans la mythologie Egyptienne, Atum est une entité primordiale puisqu'il est le premier être. C'est lui qui est à l'origine de la création des autres dieux que nous connaissons mieux.
Serez-vous assez valeureux pour qu'il vous accorde sa bénédiction dans cette machine à sous ? Ce n'est pas la première machine à sous que l'on voit sur le thème de l'Égypte antique. Play n Go avait sorti « Cat Wilde and the Lost Chapter » un mois auparavant mais avec « Eye of Atum » ils font le choix d'un gameplay plus simple et d'une ambiance moins SF pour séduire un autre public.
Sa grille est composée de 3 lignes de 5 cases, pour 10 lignes de combinaisons. On peut miser entre 10 centimes et 100 euros sur cette machine pour tenter de remporter jusqu'à 2000 fois sa mise. On retrouve dans le visuel du jeu de nombreux symboles importants de cette mythologie : Un scarabée, un chat, la célèbre croix ansée appelée Ankh, les sceptres des pharaons et enfin l'œil, dont le jeu porte le nom.
Des bonus avec une mécanique simple mais très lucrative !
Pour ce qui est des bonus de cette slot, nous avons tout d'abord les symboles WILD, qui ne sont autres que le Dieu Atum. Ce sont des Expanding WILD, ce qui signifie qu'ils occupent systématiquement tout le rouleau sur lequel ils apparaissent pour favoriser au maximum le nombre de combinaisons réalisées.
Viennent ensuite les symboles Scatter. Ils sont représentés par des pyramides dorées. En réunir 3 ou plus permet d'obtenir pas moins de 12 tours gratuits, auxquels viennent s'ajouter une autre fonctionnalité permettant de maximiser vos gains. L'Upgrade des symboles !
Durant vos tours gratuits, si vous obtenez un WILD, non seulement vous bénéficierez d'un nouveau free spin, mais également de l'Upgrade du symbole rapportant le moins. Pour être plus clair, le symbole avec les gains les plus bas se transformera en celui juste au-dessus. Vous aurez donc plus de chances de les voir apparaitre. Encore un WILD et ces deux symboles prendront l'apparence du troisième, et ainsi de suite jusqu'à ce que vos 6 symboles affichent l'œil d'Atum, celui qui rapporte le plus.
Un jeu pour un autre public ?
Eye of Atum est une machine à sous facile à prendre en main, sur le thème de l'Égypte antique qui passionne depuis des générations. Dans ce lot de passionnés certains opteront plutôt pour des gameplays simples et c'est ce public que vise cette machine. Si vous n'êtes pas fan des films « La Momie » vous préférerez sans doute ce jeu à « Cat Wilde », mais ce qui est sûr c'est qu'il y a des jeux égyptiens pour tous les goûts !