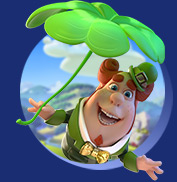 Essayez Finn and the Swirly Spin, la machine à sous lucrative et ludique qui vaut le détour !
Un leprechaun peu conventionnel vous attend dans son monde merveilleux! Amateur de bières irlandaises à ses heures, ce petit personnage est aussi en quête de célébrité. On pourra y voir sans doute un copain du lutin rockeur Rainbow Ryan !
Immergez-vous dans l'univers imaginaire de Finn, agrémenté d'arc-en-ciel, de champs verdoyants, de petits champignons au coeur de sa cité dans le ciel. Finn, votre acolyte elfe, vous accompagne de sa douce flûte afin d'enchanter vos rouleaux pour vous faire gagner un max de credits ! Des sensations fortes au rendez-vous, et pourquoi pas la Fortune ?
Un monde magique vous attend !
On aurait pu y voir qu'une machine à sous de plus portant sur le thème très en vogue des leprechauns. Et bien c'est là tout le génie de NetEnt, de savoir comment réinventer ses classiques! Le fournisseur de logiciel a en effet mis l'accent sur l'innovation en intégrant de superbes mécanismes à ces options de divertissement.
Ce titre à 5 rouleaux et 5 rangées incorpore un exceptionnel système de rotation qui permet aux icônes de s'enrouler en spirale. Sur le plan design, il se démarque clairement des titres du genre et présente un environnement qui est propre à l'ile d'émeraude, rayonnant d'ondes positives!
Bonus Slot (les bonus gratuits)
Intéressons-nous davantage aux rouleaux et à leurs fonctionnements. Le joueur pourra accumuler des clés afin de remporter des tours gratuits, débloquées successivement, chacune ayant sa fonctionnalité propre
Autre particularité à relever est qu'il existe plusieurs types de gains, selon la présence du wild ou pas dans vos combinaison gagnantes. Une Feature aléatoire (avec 4 fonctions différentes) et un symbole Sticky Wild complètent la liste des nombreuses fonctionnalités très intéressantes de la slot.
Parmi les symboles disponibles sur les rouleaux, le rubis est celui qui octroie le plus gros paiement. Il accordera aux joueurs qui parviendront à l'obtenir, un multiplicateur de 500x du montant du pari lorsqu'il apparaît 5 fois sur une ligne de paiement active. Dans la quête de gains supplémentaires, les joueurs pourront aussi compter sur l'icône de l'étoile. Cette dernière est un joker et se substitue aux autres symboles pour vous aider à former davantage de combinaisons gagnantes!
Notre avis sur la slot Finn and the Swirly Spin
La machine à sous Finn and the Swirly Spin se révèle un véritable chef d'oeuvre de conception de NetEnt, remplies de symboles irlandais et qui incorpore pléthores de fonctionnalités telles qu'un wild, un scatter, des free spins et parties bonus. Ce titre est aussi l'option idéale pour ceux qui veulent se détendre tout en gagnant de l'argent.
Prenez part à cette aventure palpitante en testant le mode démo accessible dès maintenant ou vivez l'expérience en cliquant sur JOUER POUR DE VRAI!